'Be Not 'Misplaced'

Most importantly, I came to understand
that God hadn't lost me, even if I seemed
for years to have misplaced God.
But this realization did not come
without a struggle.
Kathleen Norris-




April 26, 2003 I am excited to say, I will be baptized into the LDS Church.
My husband grew up in the church, and so with an open mind, I listened,
read, and prayed. And having a very strong Faith in God, I believe he
lead me to this church for a reason. And so after months of thought and prayer,
discussions with my daughter(her oppion means everything to me), and
talks with my husband, I have decided this is the right thing to do.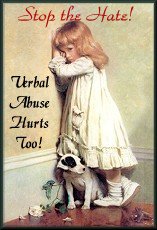 Need we say more?
Please Help
the Children!

Prayer has always been very important to me.





You're Not Forgotten



If You Ever Feel Threated By Someone From The Net,
There are Ways To Take Care Of These Problems.

Be Kind to our
4 legged friends Please!
My Links
To vist the rest of my home,
please follow the links.