Lady's Mate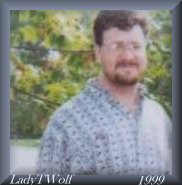 This is my bestfriend, mate, and husband.
Scott (aka) Crunch_Man30.
We met August 21, 1998, in Yahoo Chat in our favorite chat room,
"Oldbie, Newbie Room"
I think it was more my favorite room, but Crunch_man,
he would just come in, and not say much. LOL he's still like that.
But he always talked to me. Sometimes I would be in a room
and out of no where, a message would appear
"Crunch_man29 tells you: BOOOOOOOOO"
And that is how it all got started. Our friendship formed.
And thats what it was. Friendship! He was still involved with
the mother of his children. And I was involved with a not so
very nice guy. But Scott was there for me.
LOL I say he was like a bad penney, everytime I turned
around, he was there. And boy am I glad.
After a year of friendship, and his ex girlfriend,
and my ex boyfriend out of the picture. We decided to meet,
just as friends, as we both still felt burnt from our last
experiences.
I just laughed at him, when he told me he was coming
to Minnesota. He is from Arizona.
Come on ladies, how many guys out here
on the net, told you they were going to pay you a visit?
I just told him, ok, come on up. Not thinking he really would.
Next thing I know, he says, "I got my plane ticket today, and I will be
there Friday" LOL could have knocked me over. But then I got excited.
See, I love to camp, and he was coming up, and we were going camping.
I had always dreamed of being with someone, that I loved,
out camping, under the bright stars, and if lucky, the Northern Lights.
Well we started the count down.

I think we started out at like 840 minutes
before we would see each other for real. Some of our friends from the net,
were counting with us. But it's sad to say, that we lost friends over our
meeting too. See Scott is younger than I, and you would be surprize how many
people are against Younger men, and Older women. But so what? We never
even thought of it, till it was pointed out to us. We talked about it, but never
gave it another thought. We are best friends, and do you put an age on friendship?
Well Scott got on the plane,

and headed to Minnesota. He called
me on the phone from wayyyy up there in the Wild Blue Yonder...lol.
I was on my way to Minneapolis to pick him up. When we went to
hang up, we paused and realized that the next time we spoke, it would be for real.
Were we nervous? I don't think I was. Concern yeah. "Will he like me?"
"What reaction will I recieve?" But I wasn't afraid to meet him. Because, we had
promised each other that we were meeting as FRIENDS ONLY!!! And no matter what, we
would still remain friends. And that really does help. There are no pressures. And
when there is no pressure, how can there be let downs? And we did not want to do anything to ruin our friendship.
Scott landed in the Big City, and I of course was lost and late.
LOL I know Scott would want me to tell how I had messed up,
and maybe sometime I will, but not now...LOL It was a true Ice Breaker...LOL.
After I parked the Van....*shakes head and chuckles*, I went into the airport, and went to the
baggage area. And thats when I realized, "I forgot to look at his picture before I left home!"
But then I realized that I would know him anywhere. And I sure did.
I saw him bending down to get his baggage off that baggage thingy. And I knew
right away it was him. For a split second, I was so afraid. I was going
to hide behind the post I was standing next too, but then he looked up at me.
He smiled the biggest smile I have ever seen. And I knew right then and
there that everything was going to be just fine.
We spent 4 wonderful days and nights, out under the stars, and yes, we were even
blessed with the Northern Lights every night.
We built campfirers, and even had company one evening. My friends Judy and Brian came camping
one evening. We sat around the fire, and sipped wine, and had a very nice time.
Before the 4 days were up, we knew that we wanted to be together. But there
things that needed to be done, for us to be together. But we just knew, that it would happen.
How can something so right, not happen?