Under Construction!!
Thank you for stopping by and checking out what I concider
"Valuable Causes"
We all have causes we believe in. If you see any of mine that interest you
Please click on the image and check out their Web Site.
Thank you.

Please Help In The Effort To
Save The American Wolves!
SHOW YOUR SUPPORT. ADOPT A WOLF


Help Save the Wolves



Learn More About
the Magnificent Wolf

I support this one, as it is in Minnesota

Dove of Peace flies from
site to site, through as
many countries as
possible. It does not
belong to any belief system.
Please help it





Pass it on.

Make a line around the
globe with a prayer for
Peace by taking it with
you to your site, or by
giving it to someone
for their site.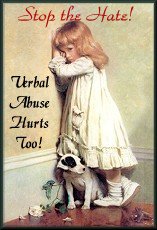 Need we say more?
Please Help
the Children!


Thank you
Sequita

You're Not Forgotten



If You Ever Feel Threated By Someone From The Net,
There are Ways To Take Care Of These Problems.

Be Kind to our
4 legged friends Please!